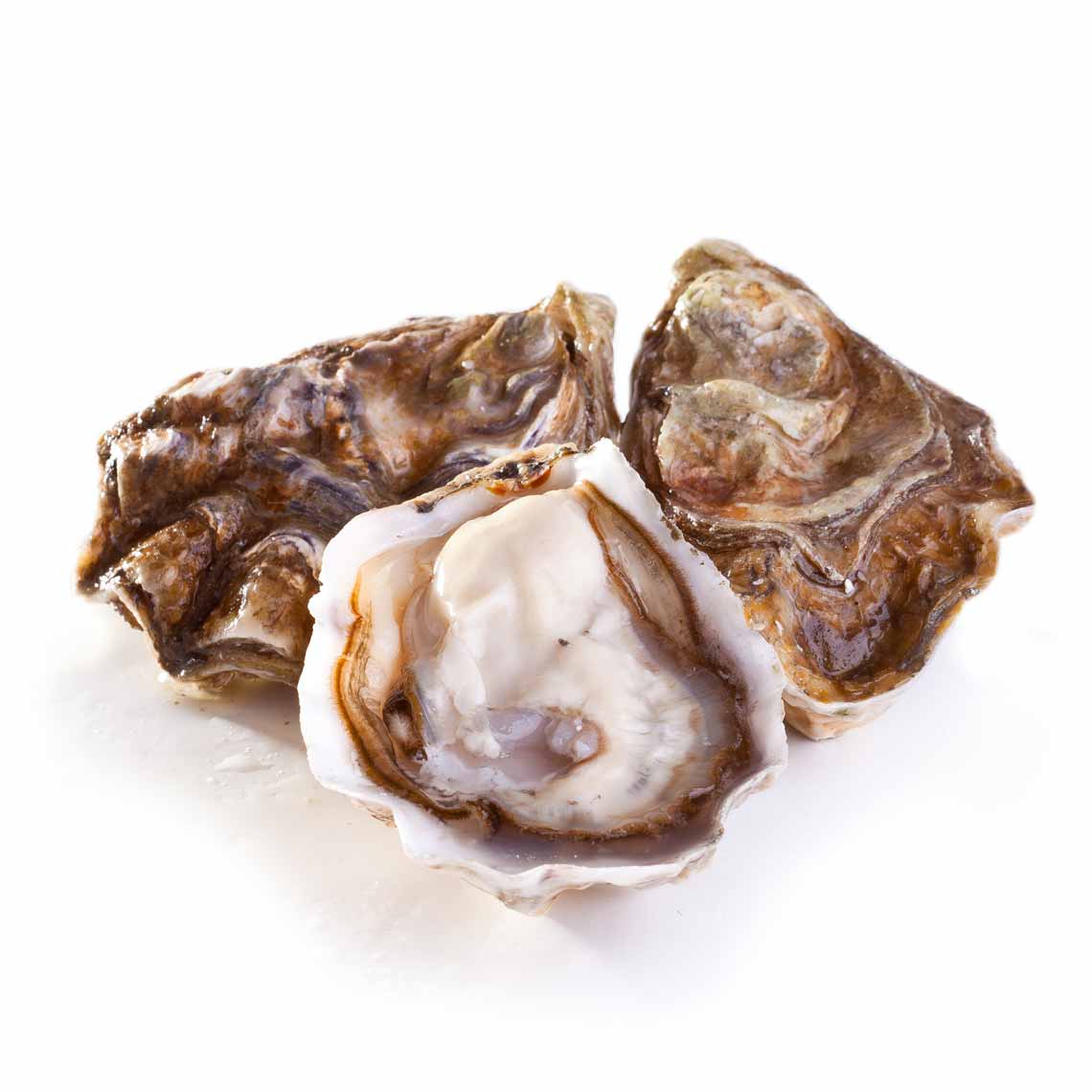 Shellstock
LIVE IN THE SHELL FRESH
In oyster bars and at special occasions everywhere, Goose Point shell-stock oysters, beautifully plump in a compact shell, are always in high demand. Our live, in-shell oysters are a true delicacy, noted for their mild flavor. Served fresh on the half-shell or on the barbeque, Goose Point oysters resemble the light, salty, clean taste of ocean air, complete with a smooth follow-through. Our shell-stock oysters are available in yearling, extra small, small, medium and large sizes.
Though we deliver our oysters no later than the day after harvest to ensure the longest shelf life possible, live oysters are best when consumed within a week of being picked from their beds. However, properly-stored live oysters can have a shelf life of up to two weeks.  To keep Goose Point shell-stock oysters fresh, refrigerate them in an open container and keep them covered with a clean, wet towel (this prevents them from drying out). Do not store your oysters in a bucket of seawater. (Note: If any oysters are "gaping," they should be tapped lightly. If they close up, they are still alive and okay to eat. If not, they should be discarded.)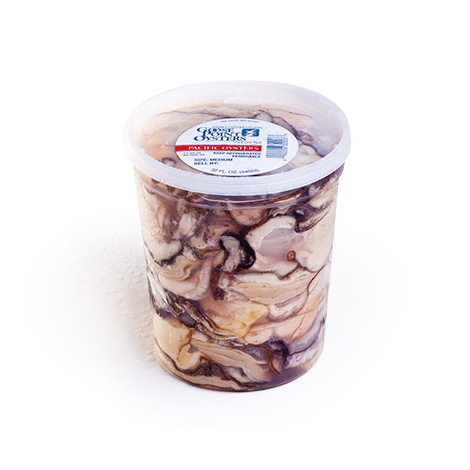 Shucked
HAND SHUCKED NORTHWEST OYSTERS
Oyster shucking is a timeless and highly honorable tradition for oystermen all over the world. Our expert, award-winning oyster shuckers separate the oyster from the shell by hand, and package our raw Goose Point shucked oysters to be sold by the pint, quart or gallon.
Goose Point shucked oyster meats are processed in the opening and packing rooms of our state-of-the-art HACCP facility, often using our Fresher Under Pressure high pressure process. Each and every year we harvest, process and ship over 80,000 gallons of oyster meats to seafood connoisseurs worldwide. Our oyster meats are graded by size and packed according to volume.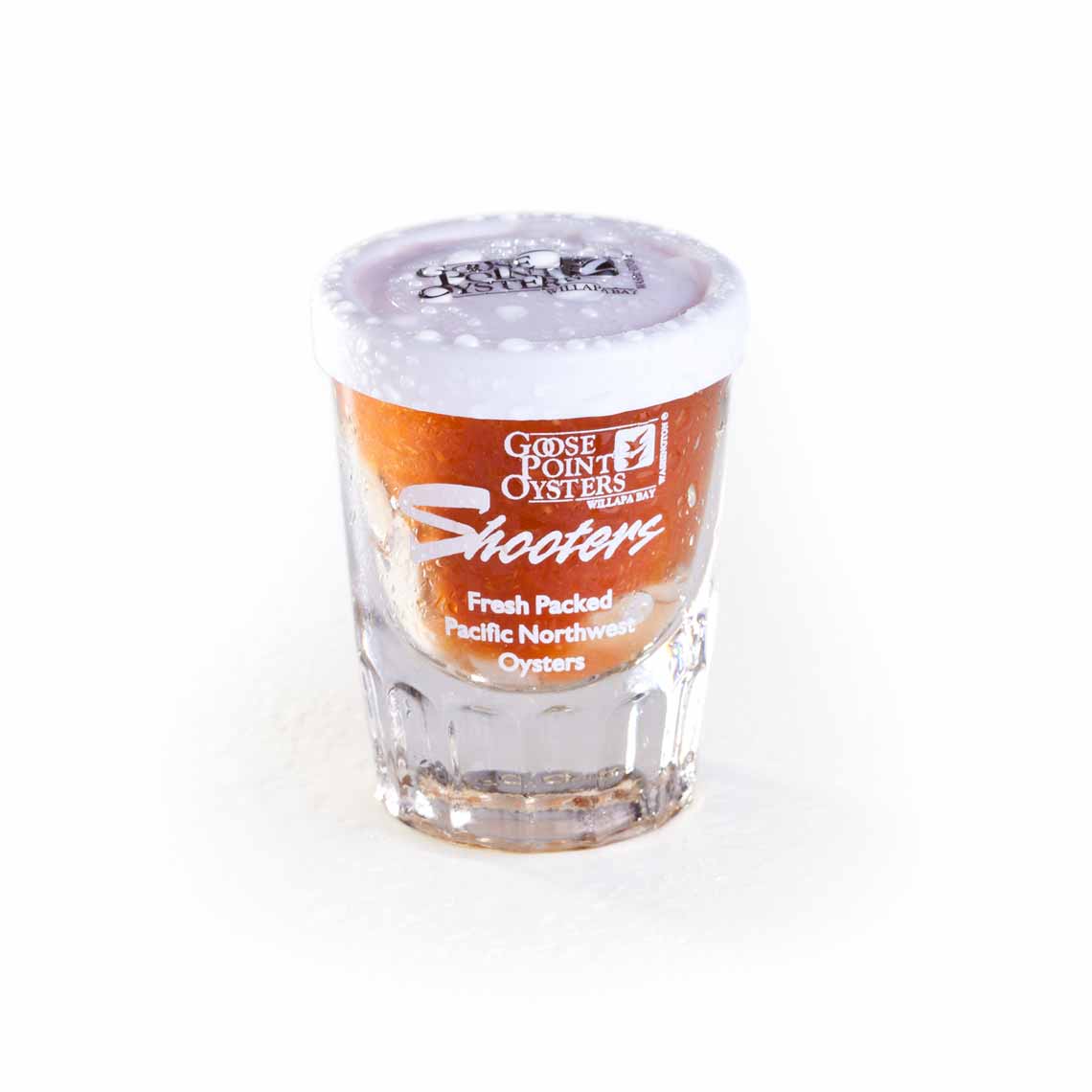 Shooters
READY FOR THAT SPECIAL EVENT
Go ahead, take a shot! Here at Goose Point, we don't stop at live, in-shell or shucked oysters. We also offer specialty consumer oyster products such as our popular oyster shooters. Goose Point oyster shooters are packed fresh and ready to eat under our HACCP program in traditional 1.4-ounce shot glasses, complete with an extra small Pacific Northwest oyster in our zesty cocktail sauce. Our oyster shooters are available individually or in a 4-pack, and may be stored refrigerated for 17 days or frozen until consumed (defrost time is about 45 minutes). What are you waiting for? Get your party on!
Nisbet Oyster Co, Inc. also offers a unique and inexpensive private label option on Goose Point oyster shooters for any occasion! Customize our oyster shooters for your business endeavors or personalize them for special events with friends and family.
Minimum purchase for the private label program is 50 cases, or 1200 units. Each case includes 24 units and weighs 15 pounds. A deposit is required on the glass and for printing. All products are labeled according to the Federal Labeling Laws. Lead time is about 2 weeks. Ask about our shipping options. For more information or any inquiries, please feel free to contact us.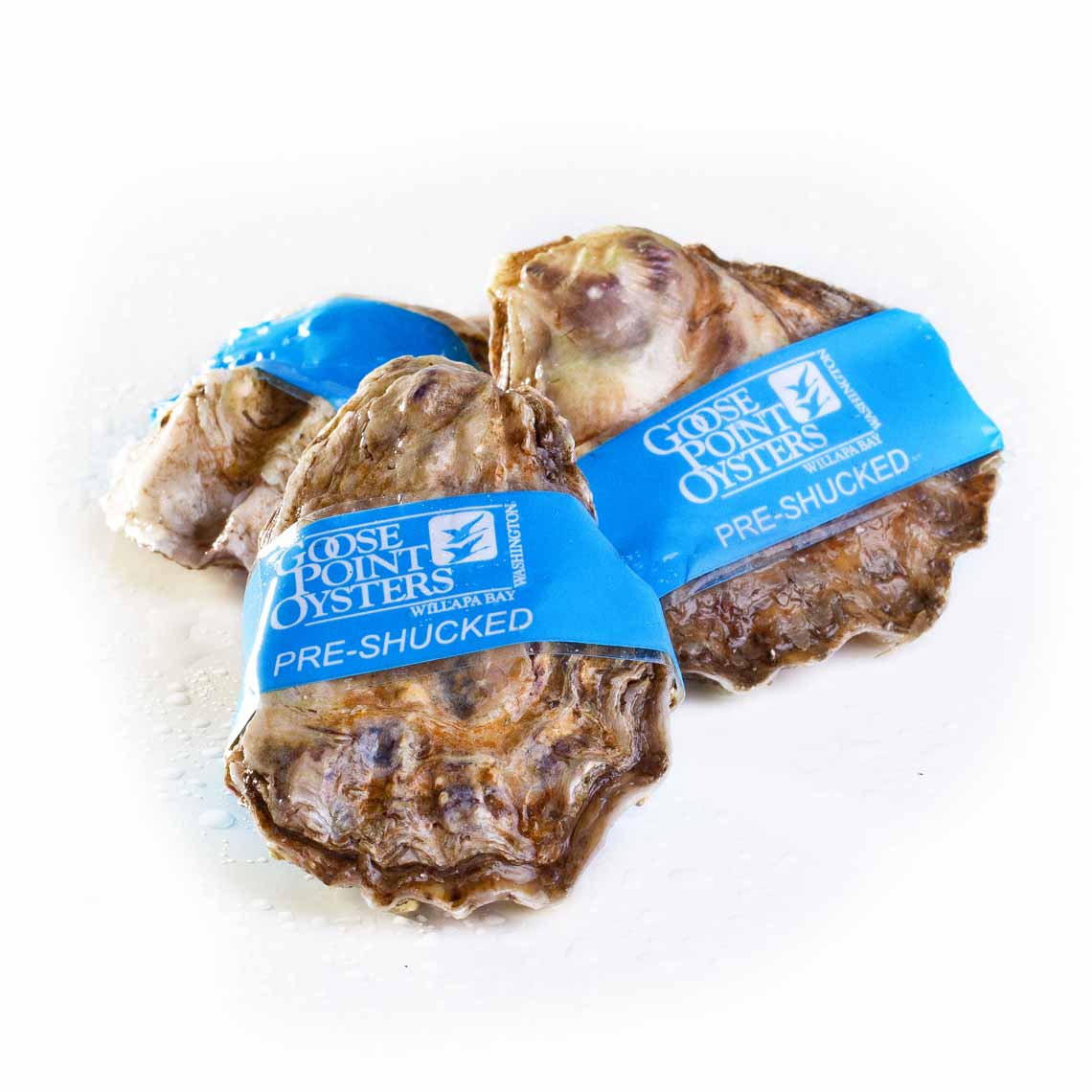 High Pressure
FRESHER UNDER PRESSURE
Safety assured for convenient, quality dining. And with an even longer shelf life! That's our Fresher Under Pressure promise to you. Goose Point high pressure oysters are our best oysters yet, specially selected from our beds and raft cultured stock for high meat quality with uniform shape and size. Individually banded or pouched, the oyster retains all its natural moisture, texture and flavor. All consumers have to do is remove the band to open the oyster. Our high pressure oysters are available fresh or frozen, in consumer pack mesh sacks, styro trays, bulk food service packs or custom retail packaging.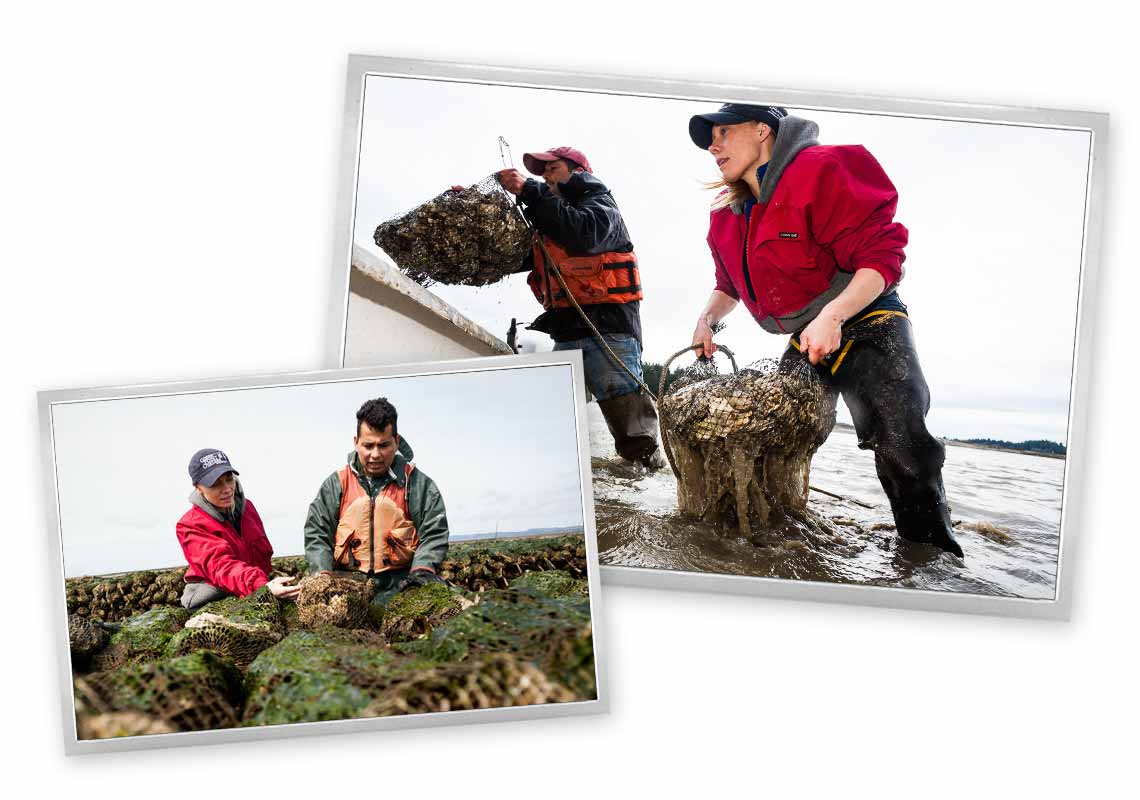 Harvesting
HARVESTING IN WILLAPA BAY
Goose Point oysters begin as microscopic larvae, which are carefully grown in specialized hatcheries and nurseries. As young seed oysters, they are spread over our privately owned beds in the extensive intertidal mudflats of Willapa Bay, where they are exposed to the wide expanse and lunar tides of the Pacific Ocean as they straddle both the land and the sea. When the waters of high tide wash over them, they filter nutrient rich seawater through their shells and feed on microscopic marine plants called phytoplankton. When the tide recedes, the oysters close down seal-tight against the air as the tidal estuaries transform into mudflats. Oysters in the estuary take two to three years to reach maturity, or develop to their full potential.
Crossing Willapa Bay at high water, our oystermen await the low tide to hand-pick Goose Point oysters from the floor of the Bay. Bushels of harvested oysters are loaded into baskets until the rising tide returns across the Bay. Our oyster skiffs then raise the baskets to the surface and deliver them to our processing facilities on the edge of the Bay, ensuring that Goose Point oysters are as fresh as possible. (As our oystermen tend to and harvest oysters according to the lunar tides of the Pacific Ocean, our crew often works through the night during the winter months, rarely seeing the exposed beds during the daylight.)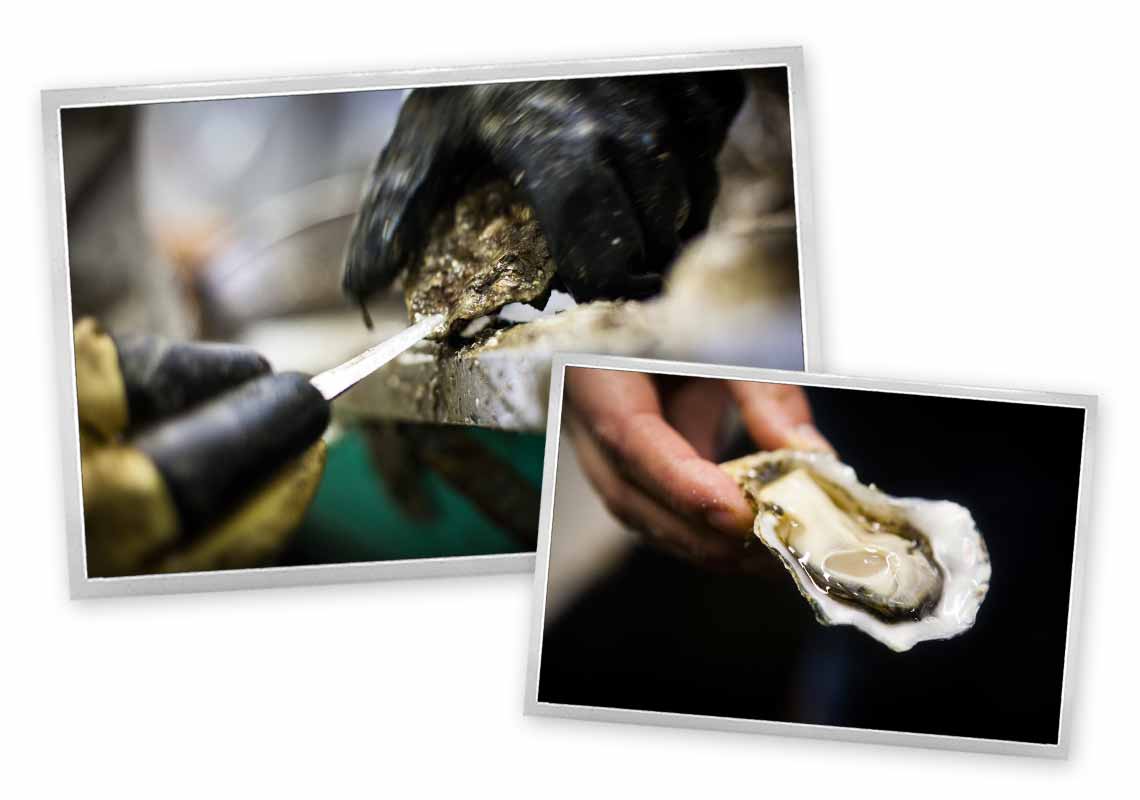 Processing
PROCESSING AT GOOSE POINT
In June of 2001, the Nisbet Oyster Co., Inc. became the first West Coast processor to employ High Hydrostatic Pressure (HHP) technology after installing a HHP processor, built by Flow International. This state-of-the-art technology has enabled the company to become an industry leader in developing innovative oyster products of the highest quality.
Today, we are proud to uphold this honorable title as we process the oysters we harvest in our 15,000-square-foot, state-of-the-art oyster processing plant on the banks of the Niakwiakum River in Willapa Bay. Our HACCP-certified plant is considered a model facility in the industry by the Federal Food and Drug Administration and the Washington State Department of Health, Shellfish Division (two agencies that inspect our plant on a regular basis). Once the plant receives harvested oysters, they are inspected and cleaned, then prepared and packaged prior to shipping. The Nisbet Oyster Co., Inc. plant is one of six plants in the State of Washington licensed to export oysters to Japan.