NEW! Steamers in 5 Frozen Meals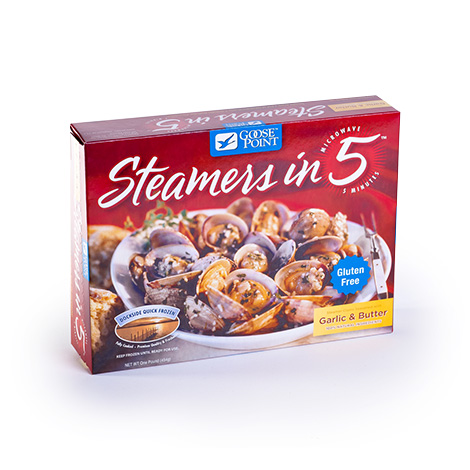 GROWING TO MEET NEW DEMANDS
In 2009, the Nisbet Oyster Co., Inc. added a 30,000-cubic-foot cold storage freezer to its processing plant, expanding its product line to include the all-new Steamers in 5.
Now with Goose Point Steamers in 5 you can enjoy a mouth-watering pot of tender, succulent, sweet, baby-sized steamer clams any time of the year, after just five minutes in your microwave.
INNOVATIVE MEALS START WITH CLASSIC INGREDIENTS
Our special package combines our signature spices with the clams' nectars to produce a gourmet dipping sauce that transports you to the sandy beaches overlooking a seaside sunset, without the sand between your toes. So, grab some crusty bread and fire up the microwave. Steamers in 5 makes a great party fare, a wonderful appetizer for two, or a pleasing dinner for one.